Stone Meteorite Jewelry
Beautiful chondrules – the building blocks of solar systems.
Smukke kondruler – byggestenene til solsystemer.
More pictures coming up…
NWA 11236 – H4-6 breccia
Dr. Tony Irving, University of Washington, foretog i marts/april 2017 analyse og en endelig klassificering af meteoritten. Derefter fik meteoritten tildelt et officielt navn, og den er blevet registreret i den internationale database for meteoritter, det officielle navn er NWA 11236. Det er en type H4-6 breccia, hvilket betyder, at meteoritten består af områder/klumper af type 4 materiale, der er noget af det mest velbevarede af det oprindelige faste materiale, der blev skabt i den protoplanetariske gassky, det der senere skabte planeter og måner m.v. (kun type 3 er mere velbevaret). Desuden består den af klumper af type 6 materiale, der er omdannet til en vis grad, på grund af varmeudvikling i den asteroide, som materialet stammer fra. Et sammenstød har på et tidspunkt smadret et par asteroider, hvorefter materiale af forskellig type har klumpet sig sammen, og har dannet et legeme, der senere har ramt Jorden og blevet til denne sammensatte meteorit. Den er én af 93 anerkendte type H4-6 meteoritter. Se den officielle optagelse i meteorit-databasen, link herunder:
Link to NWA 11236 in Meteoritical Bulletin Database:
https://www.lpi.usra.edu/meteor/metbull.php?code=66063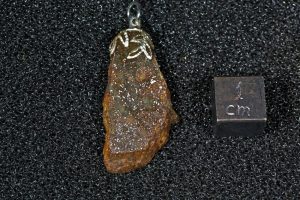 Metal grain rich H-chondrite, sold  #17001  kr. 999,-  €133,-
Ovenstående er første eksempel (solgt), der kommer mange flere…
________________________
To order/purchase a stony-iron just copy the item #xxxxx you want, click here 
Contact/Order
and fill out the form.
For at bestille et pallasit-smykke, skal du kopiere eller notere det varenr. du ønsker (#xxxxx), klikke her på Kontakt/Bestil og udfylde formularen.
___________________