Iron meteorite slices – Jernmeteorit skiver
Muonionalusta type IVA fine octhedrite
From the core of an asteroid comes this beautiful fine octahedrite – cut, polished and etched to show the unique cosmic interlocking crystal-pattern of kamasite and taenite, that can not be reproduced on Earth. The swedish Muonionalusta iron-meteorite have been galvanic stabilized, polished, etched and some are corrosion-protected by an electrolytic process. The iron meteorite slices are nickel tested, no nickel release are found, the content of nickel is bound in mainly the taenite crystals.
Fra kernen af en asteroide kommer denne smukke finkrystalliserede oktaedrit – udskåret, poleret og ætset for at kunne vise det unikke sammensatte krystalmønster af kamasit og taenit, der ikke kan reproduceres på Jorden. Den svenske Muonionalusta jern-meteorit er blevet vandskåret, galvanisk stabiliseret, poleret, ætset og nogle er korrosionsbeskyttet med en elektrolytisk overfladebehandling. Meteorit-skiverne er testet for afgivelse af nikkel – der afgives ikke påviseligt nikkel fra smykkerne. Nikkelindholdet er fast bundet i især taenit-krystallerne og kan ikke registreres i en nikkeltest.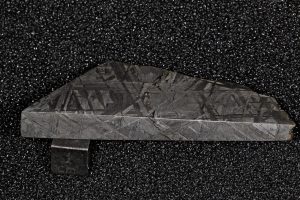 SOLGT – Part slice 73,2 g #41001  kr. 732,-  € 98,-
…
Large end cut 1137,1 g #41002  price on request
…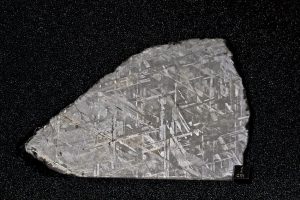 Part slice 681,2 g #41003  SOLD
…
Part slice with rare troilite/stishovite-SiO2 inclusion, 212,9 g #41004  kr. 7500,-  € 999,-
…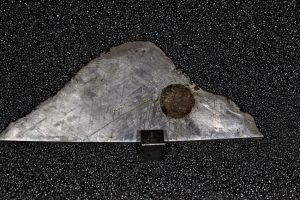 Part slice with large troilite inclusion, 56,6 g #41005  SOLD
…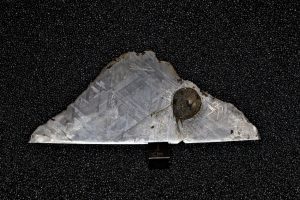 Part slice with large troilite inclusion, 56,1 g #41006 SOLD
…
________________________
To purchase an etched iron meteorite slice just copy the item #xxxxx you want, click here 
Contact/Order
and fill out the form.
For at bestille en ætset skive af jernmeteorit, skal du kopiere eller notere det varenr. du ønsker (#xxxxx), klikke her på Kontakt/Bestil og udfylde formularen.
___________________